January 4th, 2022 | Posted in
Investing
,
technology
4 Technology Trends to Watch in the New Year (And Beyond)
2020 was a banner year for many technology companies – the S&P 500 technology sector soared +43.9%, not in spite of, but because of the pandemic. As uncertainty draped over the U.S. economy and as large segments of the population leveraged technology to work remotely, many of the companies responsible for building and servicing the digital infrastructure experienced outsized growth. Investors snapped up shares. 
The tech story in 2021 was largely a continuation of 2020, with companies across all sectors scrambling to 'digitize' their businesses and move operations and sales online. Many of these 'digital economy' trends were already underway before Covid-19 arrived, but the pandemic arguably accelerated the ongoing evolution of the way we work and do business. 
To cap off the year, we're looking ahead to what's next for technology, with 4 key trends to watch in 2022 and beyond.1
---
A better way forward for passive investors.
Passive investing using ETFs has become popular, allowing virtually every investor to participate in the stock market with an ETF index fund that tracks the S&P 500. Unfortunately, these funds make it difficult to beat the market—because an index fund essentially is the market.
Zacks Advantage offers a better way forward: We have always been committed to a research-driven investment process, and we have refined our active investment experience to optimize the passive investment realm. Our actively managed robo advisor offers:
Targeted asset allocation
Automatic diversification
Built-in discipline
Simplified investing – with low fees!
Learn more with our free guide, A Better Way Forward: Actively Managing Passive Index Funds.2
---
1. Big Tech Regulation is Coming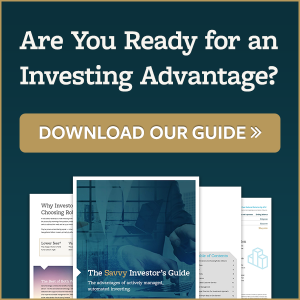 The notion that regulation is coming for big tech has been on the table for years – but nothing has happened yet. 2022 may see the tides shift.
There is not much the two parties in Congress agree upon, but one area of consensus is that technology companies have accumulated too much power, have too much influence, and are stifling competition with size. Republicans and Democrats dislike big tech for different reasons, but there could be enough intersection to have meaningful regulation appear in the new year and perhaps beyond. 
One of the key events of 2021 was the Wall Street Journal's publication of the "Facebook Files," which detailed Facebook's inability – and in many cases unwillingness – to rein in harmful engagement on its platform. The files also made it clear that upper management knew the platform was having harmful effects on society and did nothing about it. The issue culminated with the whistleblower testimony of Frances Haugen.
Lawmakers are scrutinizing big technology companies for issues involving privacy, consumer data, and emerging technologies. Europe has already implemented laws surrounding data protection and privacy, and California has followed suit. Will Congress take the next step in 2022?
Bringing More Artificial Intelligence to Supply Chains
2021 will be remembered for many things. The supply chain crisis is one of them. 
Stories of container ships idled outside the ports of Long Beach, California, factory closures in Southeast Asia, empty shelves at retailers – these all featured prominently in the headlines for months, even though there was ultimately no shortage of things to buy here in the U.S.
Even still, the snarled supply chain issues led many businesses and even the U.S. government to consider what changes may be needed to ensure the flow of goods and services could withstand disruptions. That's where technology may enter the picture in 2022 and beyond.
Today, many critical decisions in supply-chain logistics are still made by humans, which means they are unable to process large data sets that could aid with optimization. Artificial Intelligence could solve that problem, and more companies are starting to use the technology to reduce waste, enhance production, and optimize. Singapore may be a global leader in this space – the country has just invested $20 billion in what is the world's largest fully-automated port, featuring drones, robots, and electric vehicles. The project is expected to double Singapore's existing shipping capacity. 
2. The Continued Expansion of E-commerce 
The U.S. e-commerce industry is expected to reach $1 trillion by 2022, a milestone that was reached years ahead of schedule and is almost certainly attributable to the pandemic. Approximately 60% of consumers indicated they will spend more time online post-pandemic than before, and anyone reading this can likely attest to having purchased more things online over the past year than at any previous time.
That means retailers and service providers will be more focused in the new year – and in years beyond – on getting customers to make more purchases online. Technology is likely to play a couple of different roles in making that happen. The first is the use of augmented reality to help customers make decisions. The 'virtualizing' of products like clothing, shoes, or furniture allows customers to experience the products before purchasing them.
Related is technology's ability to provide customer service while collecting data in the process. A.I.-driven chatbots can handle customer questions, direct customers to recommended products, collect feedback from surveys, answer frequently asked questions, and provide information about sales and discounts. What salespeople do in stores can be handled by Artificial Intelligence online.
3. A New Internet
Facebook had a challenging public relations year in 2021, but it did not stop the company from making bold proclamations about its future. Specifically, the company in 2021 announced it was changing its parent company name to Meta, and that the future of the company would be in building the metaverse – a virtual world where users would live a digital life, replete with shopping, gaming, interacting with friends, and providing and receiving services. 
Consider that the metaverse could create an entire economy in and of itself.
These developments make up what is considered the next iteration of the internet, or Web 3.0. If Web 2.0 gave us the internet as a platform for sharing, shopping, and learning, Web 3.0 will be built on core concepts of decentralization, perhaps powered by blockchain and run and owned by users instead of traditional companies. The seeds of Web 3.0 have been planted, and 2022 and beyond are likely to see more developments and breakthroughs.
Bottom Line for Investors
Technological innovation was already well underway before the pandemic struck. But the implementation of lockdowns and restrictions in the wake of Covid-19 necessitated a move online – one where remote work, online shopping, and providing and receiving services digitally flourished. In a sense, the pandemic catalyzed these technological trends that were already happening, and 2021 is likely to be remembered as a pivotal year for these technological breakthroughs.  
Another trend that has grown in recent years is passive investing. This approach allows virtually every investor to participate in the stock market with an ETF index fund that tracks the S&P 500.
However, a purely passive approach cannot beat the market (because it basically is the market). That's why Zacks Advantage offers an actively managed robo advisor that:
Invests exclusively with ETFs
Uses technology to recommend the appropriate mix of equities and bond ETFs to help achieve your investing goal and specific risk tolerance
Lowers fees and expenses
Get our free guide, A Better Way Forward: Actively Managing Passive Index Funds, to learn the 4 issues that can hold back returns for passive investors, and how Zacks Advantage can help you overcome them.
---
1 Wall Street Journal. December 9, 2021.
2 Zacks Investment Management may amend or rescind the A Better Way Forward: Actively Managing Passive Index Funds guide offer for any reason and at Zacks Investment Management's discretion.

3 Zacks Investment Management may amend or rescind the A Better Way Forward: Actively Managing Passive Index Funds guide offer for any reason and at Zacks Investment Management's discretion.
---
Past performance is no guarantee of future results. Inherent in any investment is the potential for loss
Zacks Advantage is a service offered by Zacks Investment Management, a wholly-owned subsidiary of Zacks Investment Research. Zacks Investment Management is an independent Registered Investment Advisory firm and acts as an investment manager for individuals and institutions. All material in presented on this page is for informational purposes only and no recommendation or advice is being given as to whether any investment or strategy is suitable for a particular investor. Nothing herein constitutes investment, legal, accounting or tax advice. The information contained herein has been obtained from sources believed to be reliable but we do not guarantee accuracy or completeness. Zacks Investment Management, Inc. is not engaged in rendering legal, tax, accounting or other professional services. Publication and distribution of this article is not intended to create, and the information contained herein does not constitute, an attorney- client relationship. Do not act or rely upon the information and advice given in this publication without seeking the services of competent and professional legal, tax, or accounting counsel.