September 17th, 2021 | Posted in
Investing
,
technology
Is the Tech Boom Finally Peaking?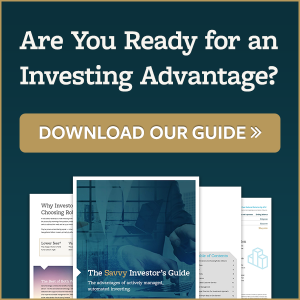 Technology companies have enjoyed a remarkable run of growth and stock price appreciation in recent years. When the pandemic shut down the global economy and led to a sharp two-month recession, technology companies were hardly fazed. Many leading technology companies even saw an uptick in growth during the early months of the pandemic, as people stayed home and work moved online.
Indeed, in the first 12 months of the pandemic, the FAANG companies – Facebook, Apple, Amazon, Netflix, and Google – posted a jaw-dropping $1.2 trillion in revenue and $244 billion in net profit.1 In Q2 2021, the FAANG companies earned $74.9 billion on $320.7 in revenues, marking an +88% jump in earnings and a +35.4% jump in revenues from a year earlier.2
These are powerful numbers, but a key question for investors is whether the rate of earnings and revenue growth is sustainable. In other words, did Q2 2021 earnings season finally mark a peak for the leading names in technology?
---
Is Technology Driving the Next Generation of Investment Management?
Robo advisors have made a splash by helping to streamline the investing process and possibly saving investors' money. But can they replace the active management and personal attention of a traditional wealth manager? Our free Revolutionize Your Retirement guide takes a look at these important issues and more, providing our insights that may be able to help you make better investing choices. You'll get our thoughts on:
The Impact of Fees on Investments
Technological Advantages including Rebalancing and Tax Loss Harvesting
Combining Robo Technology with Active Management
Download your copy of Revolutionize Your Retirement.3
---
There are a few hints that the answer may be yes. Amazon has posted decelerating revenue growth, PC growth appears to be slowing as many workers have already set up home offices, and the persistent chip shortage has led to supply chain issues and rising input costs. Supply/demand issues aside, however, technology earnings may have faced an uphill battle anyway – the broader U.S. economy may have also reached peak growth in Q2, which means decelerating growth from here. Forecasted earnings for FAANG stocks shows a slowing pattern in the second half: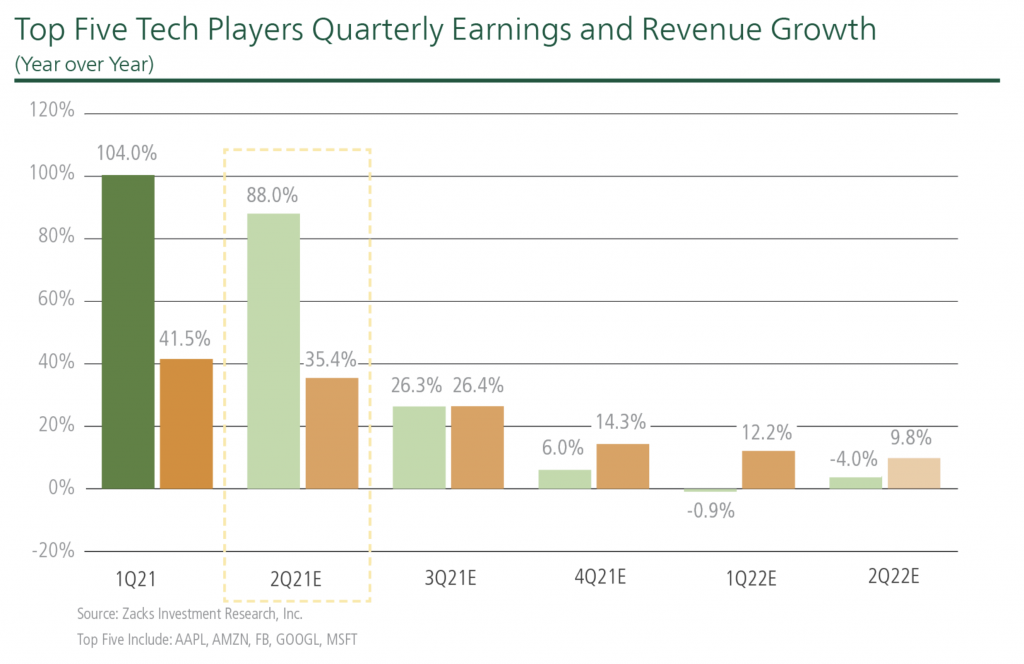 Zacks Investment Research4
Even if we account for the possibility of upward revisions over time, there is little doubt the 'perfect storm' of a pandemic driving demand for digital infrastructure, software, and hardware over the last year was a unique opportunity for FAANG stocks and the technology sector in general. In other words, it seems like a forgone conclusion, in our view, that major technology companies will experience a growth deceleration over the next few quarters, simply as a result of tough comparisons and the 'law of large numbers.'
These earnings and revenue trends do not necessarily spell bad news for tech investors, however. All of these companies are still capable of generating impressive growth by most conventional standards in the long run. As readers can see in the chart below, the long-term growth trajectory shows the group can sustain impressive earnings and revenue growth on an annual basis. 2021 stands out because of comparisons to 2020 and the surge of demand associated with reopening, but normalized growth rates can alter the picture in future years. Investors focused on the long-term may not have so much to worry about, after all.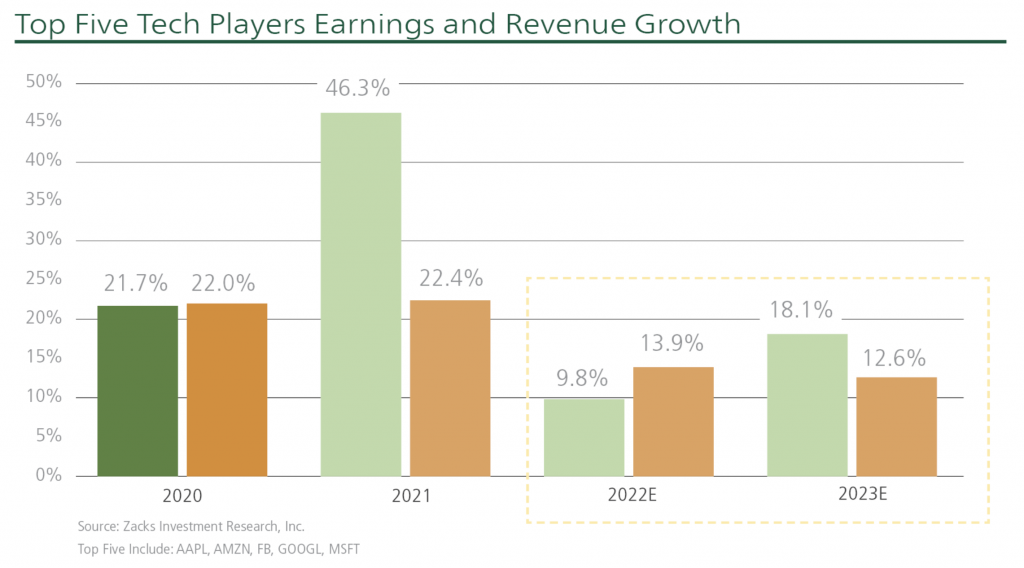 Zacks Investment Research5
Keep an Eye on Shifting Trends
Earnings and revenue growth rates may be peaking in Q2, but secular trends in the economy argue for a favorable view of the technology sector, in our view. We think one of the key drivers will be the future of "hybrid work," which involves splitting time between the office and working from home. Many major corporations have embraced this 'new normal,' and others may have to if they want access to top skilled talent in the labor pool.
According to estimates from IT research and consulting firm, Gartner, 1.1 billion people worked remotely over the last year, up from 350 million in 2019. There are many revenue-driving implications of hybrid work for the technology sector.6
Rising PC sales have already been a byproduct as workers set up home offices, but there is also a rising demand for the digital infrastructure needed to power remote work. According to FactSet, the electronic equipment and semiconductor industries are likely to see the highest YoY revenue growth of all categories in Information Technology. But there's also the collaboration software, cloud-based apps, cyber security, and myriad software that companies need to facilitate secure remote work. According to Gartner, spending in the global collaboration and enterprise social software market is estimated to hit $4.5 billion in 2021, which would mark a 17% increase over 2020 levels. Double-digit growth is also expected in 2022.7
Bottom Line for Investors
The notion of 'peak' earnings and growth has more to do with comparisons than it does actual long-term growth. Because the recovery from the pandemic was so swift, and because many of these technology companies are already massive, it makes sense that the rate of earnings and revenue growth would normalize at some point. Massive fiscal and monetary stimulus, coupled with a surge of demand from economic reopening, are isolated events – not recurring themes.
Investors focused on longer-term, secular trends are likely to find the technology sector will continue to deliver strong growth rates for years to come, even if growth deceleration happens in the short term.
Today, innovative technology is changing the investment landscape quickly, including making investing for retirement potentially less complicated and more effective. Zacks Advantage is at the forefront of these developments with innovative investment solutions—including retirement investment solutions—using new financial technologies. Our actively managed robo advisor:
Invests exclusively with ETFs
Uses technology to recommend the appropriate mix of equities and bond ETFs to help achieve your investing goal and specific risk tolerance.
Lowers fees and expenses
Our free Revolutionize Your Retirement guide8 provides investing insight that can help you determine whether technology-enhanced investing is right for you.
---
1 Market Watch. July 27, 2021.
3 Zacks Investment Management may amend or rescind the Revolutionize Your Retirement guide offer for any reason and at Zacks Investment Management's discretion.
6 Wall Street Journal. June 19, 2021.
7 Wall Street Journal. June 19, 2021.
8 Zacks Investment Management may amend or rescind the Revolutionize Your Retirement guide offer for any reason and at Zacks Investment Management's discretion.
---
Past performance is no guarantee of future results. Inherent in any investment is the potential for loss
Zacks Advantage is a service offered by Zacks Investment Management, a wholly-owned subsidiary of Zacks Investment Research. Zacks Investment Management is an independent Registered Investment Advisory firm and acts as an investment manager for individuals and institutions. All material in presented on this page is for informational purposes only and no recommendation or advice is being given as to whether any investment or strategy is suitable for a particular investor. Nothing herein constitutes investment, legal, accounting or tax advice. The information contained herein has been obtained from sources believed to be reliable but we do not guarantee accuracy or completeness. Zacks Investment Management, Inc. is not engaged in rendering legal, tax, accounting or other professional services. Publication and distribution of this article is not intended to create, and the information contained herein does not constitute, an attorney- client relationship. Do not act or rely upon the information and advice given in this publication without seeking the services of competent and professional legal, tax, or accounting counsel.